New York must envision a new future for public education
At a time of unprecedented challenges facing public education, NYSUT released a new report outlining nearly 20 federal, state and local policy recommendations from educators that they say would best support public schools as the institutions that can ensure a bright future for every student.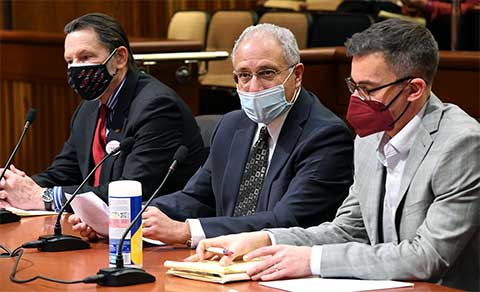 Unions to lawmakers: Do not shortchange higher ed
Before the COVID-19 pandemic, New York's institutions of higher education were "reeling from years of austerity budgets that held SUNY and CUNY instructional budgets flat as operational costs continue to rise," said NYSUT President Andy Pallotta in testimony before the state Assembly Higher Education Committee. He also said that, in the wake of the pandemic, declining or uncertain enrollments at community colleges undercut the per-student state funding method. "We must develop a better funding model for community colleges and insulate them from shortfalls created by enrollment fluctuation," he said. (Above, l-r, UUP President Fred Kowal, Pallotta and PSC President James Davis at the hearing.)

NYSUT women chart a path for the year ahead
Acknowledging that the pandemic impacted women, particularly women of color, more than any other group, Executive VP Jolene DiBrango, encouraged members of NYSUT's Women's Committee to build coalitions and make their voices heard in their communities. 
More news
NYSUT announces a new round of its popular Student Debt webinars.
Trying to keep all the balls in the air at the same time is challenging. The Juggle, a 1.5-hour seminar from NYSUT ELT, helps you cope with the juggle while still managing all your personal and professional demands. Ask your local president or union rep about requesting a session. Here are more topics for Getting Back On Track (nysut.org)
Educator's Voice, NYSUT's professional journal, seeks proposals for its next edition, on the topic of Sustaining Democracy through Civics Education. The proposal submission deadline is Feb. 1.
Check us out on Facebook and Twitter and Instagram.