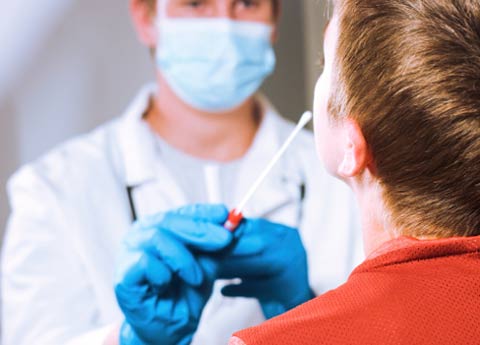 Less than 10 percent of districts are testing for COVID-19
NYSUT has consistently advocated for COVID testing programs in every school district to help ensure the health and safety of students and educators. Unfortunately, a survey of districts revealed that this week only 57 of the more than 700 school districts around the state are testing students and staff for coronavirus. With the CDC issuing new school safety guidance that makes clear that COVID testing for students and staff has an important role to play in limiting the spread of the virus in schools, NYSUT renewed its call for the state and federal governments to provide the financial resources districts need to conduct comprehensive testing programs without having to sacrifice any of the COVID-related and routine academic supports.
Overwhelming public support for SED waiver request
Armed with nearly 40,000 comments and survey responses from educators and parents, SED this week formally requested a federal waiver that would allow the cancellation of grades 3-8 ELA and math tests, grades 4 and 8 science assessments, and Regents Exams. SED said respondents overwhelmingly agreed that this year's tests should be canceled due to the pandemic.
Fund Our Future drumbeat drives state aid debate
NYSUT continues to highlight the need to fully fund public schools and colleges, says President Pallotta in his WAMC-FM radio commentary.  Take action now at the NYSUT Member Action Center to ask lawmakers to enact a budget with the revenue measures necessary to help fund the programs and services our state desperately needs!
More news
NYSUT congratulates Betty Rosa on appointment as commissioner of education.
NYSUT has commissioned an online poll regarding COVID-19 and the distribution of vaccines. If you receive an invitation in the coming days to complete the survey, please participate. Thank you in advance for taking part.
NYSUT members and leaders are telling their personal stories in video testimonials as part of our Black History Month celebration. Get a free NYSUT Black History Month poster, featuring voting rights activist Stacey Abrams. Find Black History lesson plans here.
In case you missed it live last week, here's NYSUT's "Many Threads, One Fabric" virtual conversation on "Embracing Racial and Cultural Diversity" with author Juana Bordas.
The UFT and NYSUT Women's Committee offer a free virtual screening March 18 of the documentary 9 to 5 – The Story of a Movement. The movie chronicles working women who united for better pay, advancement opportunities and an end to sexual harassment. Afterward, panelists Jolene DiBrango of NYSUT and Kim Cook and Lane Windham of Cornell will discuss this women's movement and the work that needs to be done for it to continue. Register here.
Retirement Planning for SRPs: Program Services offers a free Zoom workshop for NYSUT members in the state Employees' Retirement System planning to retire in the next five years. Sign up for one of two sessions: 6–8 p.m. Tuesday, Feb. 23, and 6-8 p.m. Thursday, Feb. 25.
NYSUT's online "Shared Success" page highlights members' good work. Send us your story tips!
The educators' expense tax deduction has been renewed — and it now includes expenses for PPE and other COVID-related expenses. And don't forget, if you itemize, you can deduct union dues from New York state taxable income.
The recently passed Coronavirus Relief Act (CARES) offers new charitable giving tax incentives in an effort to help charitable organizations through this difficult time. Please remember the NYSUT Disaster Relief Fund to take advantage of this new tax benefit.
Sign up online for upcoming free student debt webinars from NYSUT.
Check out the online Education & Learning Trust catalog for the spring semester. 
Educator's Voice, NYSUT's professional journal, has re-issued its call for article proposals for the 2022 edition. The focus is on Leveraging Student Strengths through Project-Based Learning and Authentic Assessment. Deadline is April 1.
Check us out on Facebook and Twitter and Instagram.