COVID-19: Now what?
NYSUT was able to include educators in Phase 1B and the union has a new "Now what?" fact sheet on how to be safe even after you've been vaccinated.
The Reimagine Task Force established thresholds that are being ignored, and NYSUT is concerned that because schools are not testing students for the virus, no one knows if infection rates in buildings differ from communities. Meanwhile, some districts are moving forward with "proactive" testing.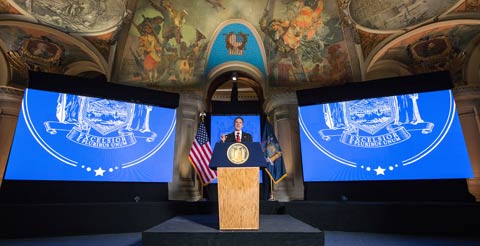 Fund our Future: Cuomo relying on federal response
Gov. Cuomo's State of the State address, spread over four days this week, offered few specifics on what's to come for education this year. As the state plays down the impact that new taxes on the ultrawealthy could have on public services like education, we'll lift our voices higher as we call for the revenues needed to Fund our Future.

Graduation rates rose last year
NYSUT lauded the progress on graduation rates announced this week by SED. "Students, parents and educators faced challenges like never before last school year, yet through it all, their dedication and hard work paid off," said President Andy Pallotta. The struggle to close the achievement gap continues, however, and the pandemic only amplifies the inequities among the state's school systems, he said.
More news
Check us out on Facebook and Twitter and Instagram.