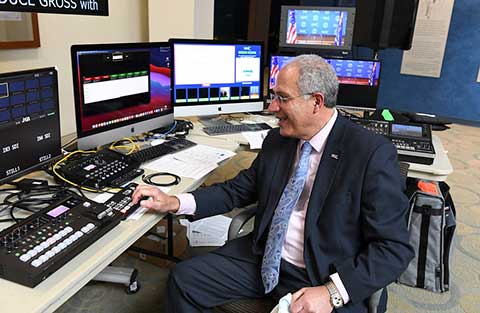 Solidarity now, and forever
NYSUT leaders wrapped up the 2021 Representative Assembly with a powerful sense of hope, purpose and union pride — a feeling that together, we can get through anything. Though the pandemic forced the statewide union to conduct its annual convention in a remote format, NYSUT leaders and a who's who of speakers recalled a year that offered tremendous challenges, yet brought people together like never before. Visit nysut.org/RA for coverage and videos of speakers and award recipients. (Above, President Pallotta checks out some of the technology needed to take the RA online.)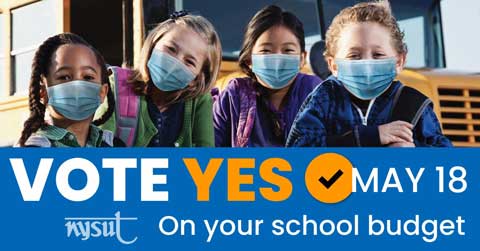 Support your local schools, and pro-public ed candidates
The 2021 local school budget voting in most districts will be in person and by absentee this year on May 18. A new law adds risk of contracting or spreading illness during a declared disaster emergency to the reasons a voter can apply for an absentee ballot.
NYSUT local unions can play a large part in convincing supportive members of the community to get out and vote to pass budgets and elect school board candidates who will promote public education. Local leaders can contact your regional political organizer for assistance.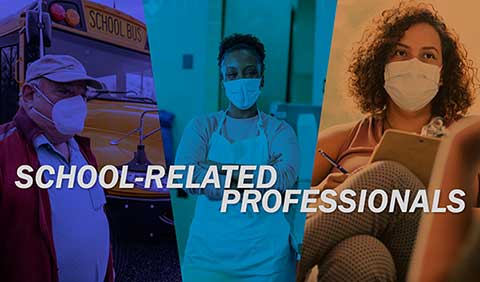 Support school staff!
For all they do, we must establish the protections for school-related professionals so they can continue to provide their valuable services to the school community: Take action now at the NYSUT Member Action Center to ask lawmakers to ensure that SRPs are afforded the same rights and protections as other education professionals. Here's a wrap-up of this week's SRP lobby day.
More news
Check us out on Facebook and Twitter and Instagram.